Meet The Attorneys – Thomas H. Sullivan, AEP
We are delighted to present Thomas H. Sullivan, AEP, a highly esteemed attorney with extensive expertise in estate and trust planning and administration. Graduating from Georgetown University and Seton Hall University School of Law, Mr. Sullivan was admitted to the practice of law in New Jersey in 1970 and practices before the New Jersey Division of Taxation and many of New Jersey's Probate Courts as well as the New Jersey Superior Court and Supreme Court.
Excellence in the Field of Estate Planning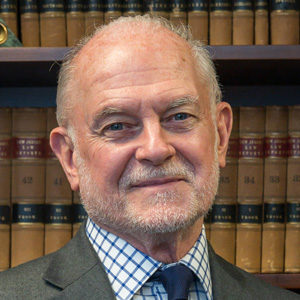 Thomas holds the prestigious "Accredited Estate Planner" designation of the National Association of Estate Planners & Councils, showcasing his dedication to excellence in the field. He is an active member of the New Jersey State Bar Association, serving on its Real Property, Probate, and Trust Committee, as well as the Northern New Jersey Estate Planning Council and the National Association of Estate Planners and Councils.
His commitment to staying current with legal developments is evident through his frequent attendance at renowned conferences on trust and estate planning and administration topics, including the University of Miami School of Law's annual Heckerling Institute on Estate Planning.
An Emphasis on Collaboration
Mr. Sullivan specializes in collaborating with individuals to create comprehensive plans for the organization, management, investment, and transfer of their assets to successive generations, friends, and favored charities. His practice encompasses strategic planning for wealth transfer, as well as the preparation of crucial documents such as wills, trusts, powers of attorney, and living wills. He is experienced in establishing limited partnerships, limited liability companies, corporations, general partnerships, and various other entities and structures that facilitate tax-advantaged wealth transfer.
Mr. Sullivan is also well-versed in working with donors and charities to develop thoughtful and impactful charitable gifts. He is adept at creating foundations, charitable lead and remainder trusts, and other structured charitable transfers that align with his clients' philanthropic goals. He is experienced in qualifying charitable entitles before the Internal Revenue Service, as 501(c)(3) entities that are able to receive tax deductible contributions.
With substantial experience in litigating trust and estate contests and representing both executors and trustees, as well as beneficiaries, Mr. Sullivan is well-equipped to handle complex legal matters related to estate and trust administration.
Contact Thomas Sullivan Today For A Free Consultation
From family business succession to real property transfer and financing, Thomas H. Sullivan's comprehensive approach and seasoned expertise make him a valuable resource for clients seeking strategic and tailored estate and trust planning solutions. If you are seeking a trusted attorney to safeguard your assets and ensure the seamless transfer of wealth, Mr. Sullivan's dedication to his clients' success makes him an invaluable advocate in your legal journey.
Get in touch with Mr. Sullivan by using our contact form or call (973) 509-7500, extension 2231.